Antivirus software is essential if you plan to go online, because of the proliferation of contaminated advertising iframes, malware-laden spam and drive-by downloads that can affect even the most legitimate, upstanding and popular of websites. So we've compiled a list of the best free Antivirus downloads available.
The data was collected from renowned testing laboratories (like AV-Test, AV-Comparatives, SELabs anti-malware) and their safety tests to assess the performance of each antivirus program.They test the software's ability to correctly identify malicious files and websites, protect against drive-by downloads and avoid false-positive detections, where benign software is incorrectly blocked as malicious.
AV-Test also assesses the impact of antivirus software on system performance, while SELabs attempts to take over the computer with 25 targeted attacks. In addition to data from these established testing facilities, we evaluate each antivirus suite ourselves to discover the features it offers and the impact it has day to day.
While almost all of the antivirus tools we've reviewed did a decent job of protecting against malware, Kaspersky Free Antivirus 19 and Microsoft's integrated Windows Defender stand out as the best options for effective, hassle-free protection.
Kaspersky's detection engine is unparalleled, although there's still a paucity of dedicated test results for the free version. Windows Defender's performance in multiple lab tests has surpassed anything we've seen before.Both have low minimal impact on system performance, with Kaspersky being particularly well suited to computers with limited processor power.Kaspersky Free Antivirus uses the same detection engine as the company's well-regarded commercial products, which puts it among some of the best-performing anti-malware tools around.
On installation, you're asked to agree or opt out of recommended settings that will delete malicious tools, adware, auto-dialers and suspicious packages, and detect other software that can be used by criminals to harm your computer or data.You're also prompted to create an account, but you can back out of this; it isn't required to use the software. Kaspersky Free installs with a 366-day licence that auto-renews when it runs out.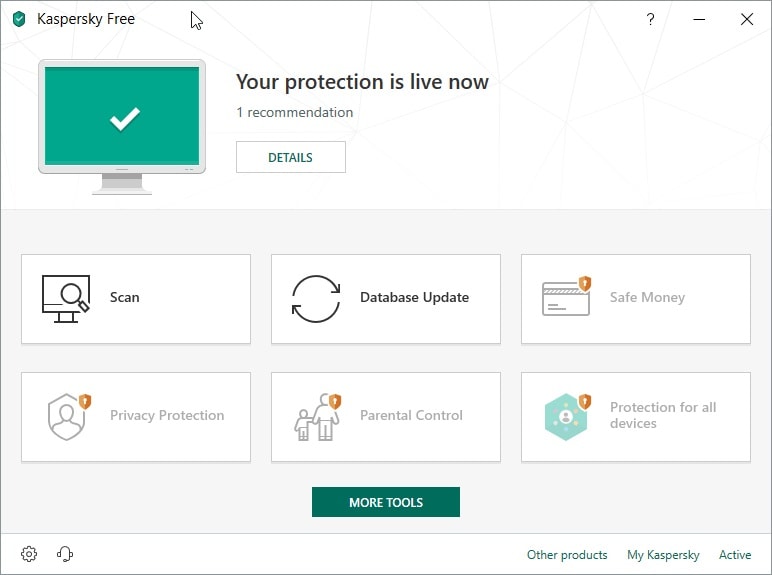 The desktop client closely resembles its paid-for counterpart in its clean look and feel, with a main screen that displays your protection status and options to scan your system, update its virus database and open extra tools. A number of other options are greyed out, prompting you to buy one of Kaspersky's paid-for anti-malware suites if you click on them.
Kaspersky Free comes with a browser plugin to check for malicious links in your search results. We were pleased to find that this doesn't change your default homepage or search engine, although by necessity it requires permission to read all your browser data.You also get a copy of Kaspersky's Secure Connection VPN service, with a 200MB daily allowance and an on-screen keyboard to foil keylogging malware.File, web, instant messaging and mail scanners are included, but extra features such as ad-blocking and webcam protection are available only in paid versions. Advanced options allow you to set how paranoid the scanner is, schedule scans and configure the program's default behaviour and the notifications you receive.
Kaspersky's engine protected against 100% of malware in SELabs' real-world tests, including both web-download viruses and targeted attacks, with no false positives.Similarly, it detected 100% of reference samples and real-world malware exposures across two successive months of trials by AV-Test. Performance data from the same source show that it has less of impact on system performance than most rivals, particularly when it comes to installing and launching software. However, it was rather heavy on website load times, particularly on a Core i3 system.In AV-Comparatives' real-world malware exposure tests, it defended against 99% of malware with no false positives.
Source : TrustedReviews